It's the horse boot of choice for international jumper riders McLain Ward, Kent Farrington, Jessica Springsteen, Rodrigo Pessoa and Margie Engle.
You'll find them on the mounts of rising talents Lucy Deslauriers and McKayla Langmeier. Not to mention, four-star eventers Phillip Dutton and Sharon White and world champion hunter riders Liza Boyd, John French and Peter Pletcher.
EquiFit has made a name for itself as the official performance horse boot of US Equestrian. But even before they made their way onto the legs of elite equine athletes, the Massachusetts-based brand has long set the standard for emerging technology in horse sport.
The EquiFit MO: adapting innovations in medical and sports fields for horses and riders. It's a task tailor made for founder Alexandra Cherubini.
"My family background is medical supplies, so I grew up around different products, new materials, research and development," says the Boston-native. "With EquiFit, I wanted to combine my passion for horses and my family business."
Her first product was inspired by a personal riding challenge.
"When I was a junior, my trainer would have me ride with a whip behind my back to get me to sit up straight," she recalls. "I wanted to create something more effective and safe. I worked with an orthopedist to develop a safe way to retrain the muscles to stay in a correct, upright position."
The elastic brace ShouldersBack was born. It was the first product of its kind in the equestrian industry and caught on like wildfire in an unexpected one—fashion!
In its first year on the market, ShouldersBack was featured in W Magazine, Good Housekeeping and on the Home Shopping Network. It even appeared in a Costume Institute exhibit called "Extreme Beauty" at the Museum of Modern Art in New York—next to the Madonna's iconic cone bra, no less.
Next, Cherubini turned her attention to horse boots.
At a time when the industry standard was neoprene, sheepskin or leather, she looked to innovations in sports footwear, medical materials and military equipment.
"There were all these high-performance materials out there, but nothing had been applied to equine athletes," she says.
Cherubini started by experimenting with T-foam, the original memory foam, creating boot liners that molded to the horse's leg. The design has evolved as new and improved materials become available.
"It's a process," she says.
"When you're doing research and development, something can seem like this great combination in the office and even when you first start testing. Then after a few months in the field, you find it's not. It can take several years to find the right materials."
EquiFit's R&D team eventually landed on the current model—a high density foam shell laminated to a 3D mesh material with a recovery foam liner dubbed ImpacTeq.
"Most open front boots are injection molded. Ours are made by hand in a facility outside of Boston," explains Cherubini. "The combination of our a high density foam shell and our ImpacTeq Liner create a highly protective and shock absorbing combination that is different than any other boot on the market."
The technology enables ImpacTeq Liners to be soft to the touch but firm to a protective shield upon impact, absorbing the force and minimizing the blow to the horse's leg.
"The foam is perforated to allow air flow through the boot, which has a cooling effect and helps promote air circulation," she continues. "Our liners are also antimicrobial to help cut down on any funk that occurs in those areas."
In the D-Teq boot line, the ImpacTeq Liner is removable for ease of cleaning and can be switched out for a sheep's wool, not sheepskin, liner— "no sheep are harmed in the making of EquiFit products," emphasizes Cherubini.
Cladding the boots is another EquiFit innovation, EverLeather.
"It's a matrix of nylon, polyester and microfiber that we've used for about 10 years now. It looks like leather, but it's a super easy to clean and engineered to be scratch, abrasion, puncture and tear resistant, so it's extremely durable. Even with heavy use," says Cherubini.
The latest version of EverLeather comes in customizable color options.
"It's the NikeiD of horse boots," she smiles.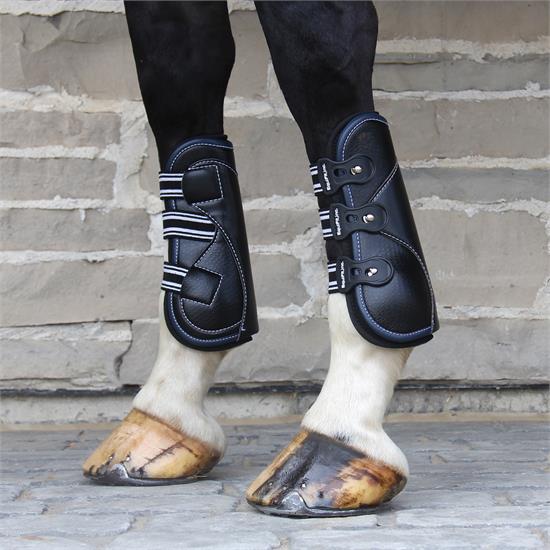 Since the launch of the boot lines, EquiFit has expanded into tack, health products, saddle pads and more, always applying an innovative spin and eye for improvement.
What's next in the pipeline? Keep an eye on Farrington's horses to find out!