Shipping horses from place to place is a big responsibility, but an even bigger one during busy competition seasons. When you reach out for a quotation, you will find transportation companies are rarely able to quote a flat rate. Pricing a trip involves more than a simple mileage calculation from pickup to destination.

Arranging long hauls can be complicated and confusing for the first-timer and a ton of hassle for the busy trainer or barn manager. Many factors may affect the cost of transportation, here are some points to consider:

Plan ahead and save

An initial quote for a long haul or cross-country trip will be based on the number of horses you wish to ship. However, a full truck is more profitable for the shipper so they will prefer to schedule once they have commitments for every spot available. Often, that will mean a wait for you, but a better quote. The more notice you can give your shipper, and the more flexible you can be with travel, the more affordable your trip will be.

The ability to plan ahead will help your bank account but, if you're not able to wait, you will find yourself juggling (and keeping track of) multiple quotes from multiple transport companies. That will cost you in time spent making calls, sending texts and answering emails.

Skilled drivers, handlers and state-of-the-art equipment

Not all transport companies are created equal. The best of the best take pride in their reputations and go to significant (often costly) lengths to provide the highest level of service possible.
As in the rest of the equestrian industry, skilled and reliable help are hard to find. Long hauls require multiple drivers who are also knowledgeable horse people. Driver fatigue is a significant safety consideration, and adequate staffing will add to the cost of shipping your horses (as it should!)

Are you an anxious owner? Many shippers are upgrading their equipment and adding surveillance technology to their trailers to allow them to closely monitor your horse while on the road and help ease your mind.

A diversified fleet of vehicles is a big investment that gives a shipper the ability to more efficiently accommodate your needs from a short, local trip to a coast-to-coast journey.

Duration, distance, and driving conditions

Pricing of all equine transport services applies from the point of origin to final destination and is based primarily on miles, but with adjustment for other factors affecting travel time. Distance, time including layovers, road conditions, road tolls, and anticipated weather events can all impact what a horse transport company must charge for your horse's trip.

Layovers & Quarantines

For cross-country travel, shippers with large fleets have dedicated layover locations at major hubs, such as Florida, California, and Kentucky. Established transport companies will have pre-existing relationships with layover locations and quarantine facilities.

Layovers are usually provided at the client's request but can add a significant amount to your bill. Prices often range from $150-$300 per 24 hours, plus may include handling, feed, and other incidental costs.

Experienced and knowledgeable shippers will be well-briefed in the protocols involved in dropping off and picking up horses from quarantine, saving you time and headaches. Delays cause stress to the animals and cost you money, so a smooth transition between air carriers, quarantine and ground transportation is critical.

Extras

Does your horse require a box stall? Have a lot of equipment going with it? Have a 24/7 groom that needs a seat in the truck? Equipment and an entourage will cost you.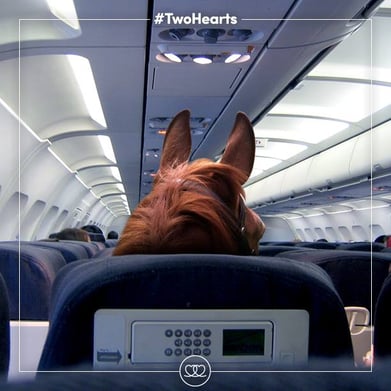 Most standard horse transportation services charge a booking fee, with the balance due at pickup. Recently, most carriers have stepped up their game to provide the option of paying with debit/credit cards online.

Another cost to factor in when transporting your horse is the requirement for a recent vet checkup and clean Health Certificate within 30 days of transport. Many shippers will ask for an original copy of a negative Coggins test result (not a copy) and horse registration papers, if applicable.

The answer to all of your shipping questions:
Leverage technology with the Equo App

The Equo App is designed to take the headaches out of arranging your horse transportation.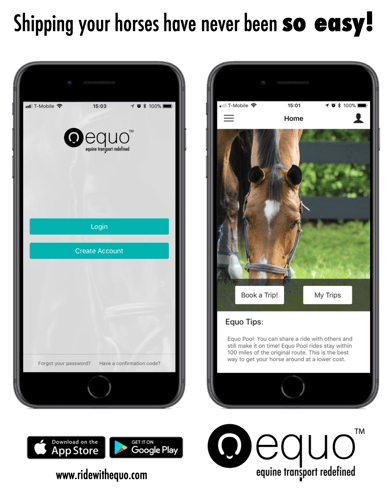 With Equo, you can:
• Forget about long waits for quotes
• Not worry about logistics like layovers
• Automate your invoicing and payment
• Send gear with your horse
• Send a groom with your horse
• Relax and let Equo handle everything!

The Equo Equine Transport app allows you to leverage the power of technology to book your horse's shipping quickly and easily throughout the United States, Canada, and Mexico.

Take the hassle out of juggling multiple quotes with just a few clicks on your smartphone - The Equo Appdoes that for you, pairing your route, date and extras requests with the shipper that best fulfills your needs.